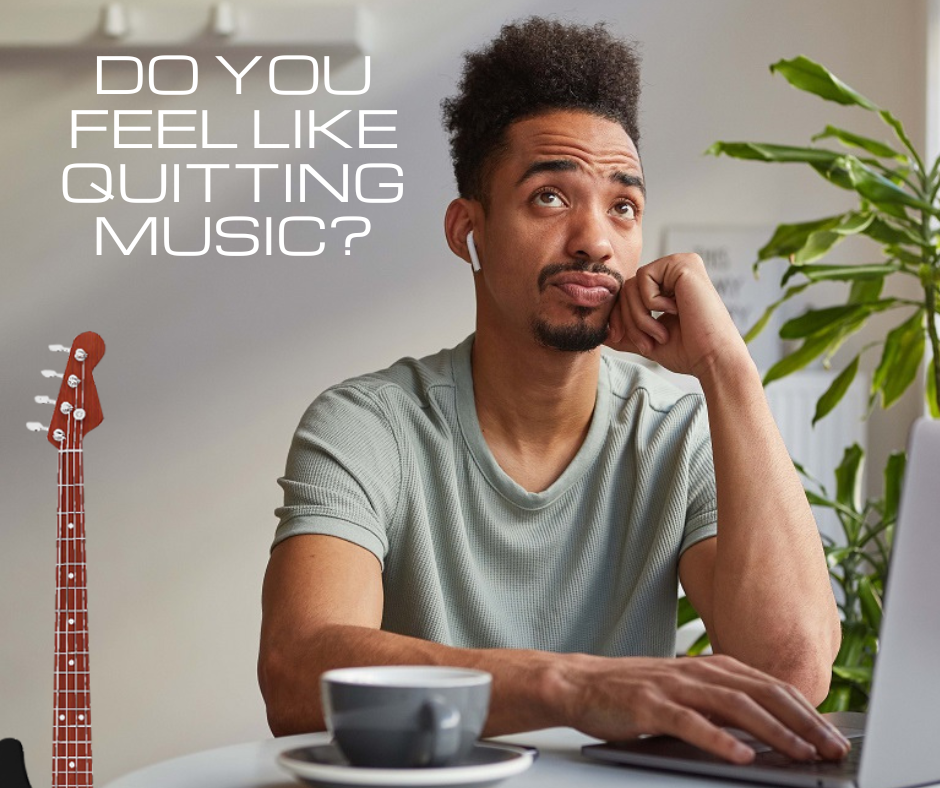 Do you find yourself in a situation where you feel you are failing, and the best thing to do right now is to quit or take a break?
There are a variety of reasons musicians, especially independent artists, feel like quitting.
Being a musician has never been easy at all, talk less of becoming successful. One thing is sure, that feeling does not only apply to music. In every work of creativity there will be a time when you feel like giving up. Times when challenges become bigger and it's like all ideas are gone.
As a music producer, I've experienced this feeling many times in the past, especially during periods when progress was slow or there were no expected results. I have also been faced with artists that would break down and cry in the vocal booth because they found it difficult to sing skillfully the songs they wrote themselves during recording sessions.
If you feel like quitting music now, it's okay to quit or take a break but bear this in mind: once you quit, you have failed. If you are still considering quitting, you have not failed yet.  It is therefore very important to ask yourself some questions before you quit.
Did I choose the right career?
If you find yourself in the music industry, there must have been a reason why you decided to get there in the first place. There was something that excited you or pushed you to start. Now you are here, are you supposed to be here? Do you have what it takes to be a musician?
The fact that you find yourself singing in the dreams is not enough reason to start a music career. There must be that musicianship in you that can never be taken away no matter the challenge you face. Even if you have left making music for a long time, the moment you come back to it, the music comes alive again because it is inside of you. That is how to know if music is your career.
What are my goals?
One of the main reasons people quit is that they have a dream, but no clear goals. Let alone plans on how to reach them. If you don't have specific goals, you'll be doing things that are completely out of line with achieving what you want.
A lot of musicians start out just pretty much trying their hand at everything and seeing what happens. Even if you're just starting out and not sure what direction to take, you should sit down and make some decisions. Decide what it is you wouldn't like to do, what you would like to do and how to achieve it.
Am I getting what I want in music?
The most important choices we have to make in music is whether we should keep creating and making music even when it appears we are not getting good results or to stop and try something different.
All musicians should think about what they hope to get out of making music. There's nothing wrong with having a big dream but, when things don't work out, will you still be making music? Is it time to try something new?
Making music isn't easy and that is what makes it beautiful and unique. When you make something great and people like it, you will be encouraged to make more. But when it is otherwise, maybe it's time to sample other people's opinions and be quick to adjust.
Other questions you must answer before you decide to quit are:
Am I blindly following what others are doing?
Am I afraid of failure?
Am I fulfilled?
No matter what drives you to be a musician, one thing is certain, you are bound to fail at some point, even if you do everything right; but if you stay in love and be positive with your creative work, you can defeat failure.
If you are in love with what you are doing, you can't easily quit. Even when it looks like nothing is working, it's just a matter of time; you will succeed.
Remember, the only way you can truly fail is when you quit.
Kenny Fasipe is a musicologist, director of music, music producer, sound engineer, singer and multi-instrumentalist. 
Kenny has published in various academic, popular journals and several online publications. He finds joy in helping artists achieve their dreams.